CG CAHPS Survey Offerings - Consumer Assessment of Healthcare Providers and Systems
---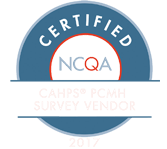 MedicalGPS, LLC is certified by the National Committee for Quality Assurance (NCQA) to conduct CAHPS® - Patient-Centered Medical Home (PCMH™) surveys. Directly through MedicalGPS or via one of our strategic partners, MedicalGPS leads the implementation of a full array of CAHPS® surveys.
CG-CAHPS, Clinician and Group CAHPS
CAHPS - PCMH, Patient-Centered Medical Homes
PQRS - CAHPS Physician Groups Participating in Physician Quality Reporting System
ACO - CAHPS, Accountable Care Organizations
H-CAHPS - Hospitals
ICH-CAHPS, In-center Hemodialysis
OAS-CAHPS, Ambulatory Surgery Centers
EDPEC-CAHPS, Department Patient Experience of Care
What is CG CAHPS?
The Clinician and Group Consumer Assessment of Healthcare Providers and Systems (CG CAHPS) survey is a standardized survey used to measure patients' perceptions of care received from healthcare providers and their staff in medical offices. The CGCAHPS were created to better understand, assess, and improve patient care experiences. The acronym "CAHPS" is a registered trademark of the Agency for Healthcare Research and Quality (AHRQ).
What is the purpose of CG CAHPS?
CGCAHPS were developed by the Agency for Healthcare Research and Quality to measure patient perceptions of care provided by doctors and medical groups. The survey also results provide patients with information that can be used to make more informed choices about their healthcare providers.
Who uses CG CAHPS?
Medical practices, healthcare plans, health systems, regional and community-based collaboratives, accreditation and certification organizations, and State and Federal agencies (such as the Centers for Medicare & Medicaid Services, Veterans Health Administration, and the Department of Defense)
Are CG CAHPS reported publicly?
Yes. Participation is free, and contributors are encouraged to provide data on a voluntary basis. The website "PhysicianCompare.com" provides a listing of providers and includes quality and patient experience measures from the medical office setting.
IS CGCAHPS mandatory?
CGCAHPS are required from medical groups with over 100 providers under one tax ID number, Pioneer ACOs, and Medicare Shared Savings Program ACOs. There are also several states that require the use of CG-CAHPS.
What measures are covered under the CG CAHPS survey?
The following are Quality Measures from the Clinician & Group Survey:
Receiving Timely Appointments, Care, and Information.
How Well Providers Communicate with Patients.
Providers' Use of Information to Coordinate Patient Care.
Helpful, Courteous, and Respectful Office Staff.
Patients' Rating of the Provider.
Why should my organization participate in CG CAHPS?
CG CAHPS are valuable for comparing and assessing an organization's performance and analyzing strengths and weaknesses in patient experiences. They can be used to evaluate the effectiveness of improvement interventions. Most importantly, CG CAHPS can be used to help set higher standards of quality and patient satisfaction within an organization, while supporting a culture of patient-centered care.
What is M3-Patient Experience® and how does it support the CG CAHPS process?
M3-Patient Experience is the proprietary patient feedback system developed and deployed by MedicalGPS, LLC. Since 1995 physician practices have used M3-Patient Experience to gauge their patients' perception of the office experience. The process is simple, yet very powerful. The goal is to acknowledge and express gratitude to every patient immediately following their office visit. Patients are first thanked, and then encouraged to provide feedback relative to their visit - usually the same day or next day following their visit. Patient feedback is obtained via in-clinic devices, email, and text message.
The M3-Patient Experience questionnaire is customized by the M3 client and may include up to 13 of the core questions utilized on the CG CAHPS survey instrument. M3-Patient Experience provides on-going continuous patient feedback relative to important CG CAHPS measures. Because M3-Patient Experience is real-time, M3 clients have opportunities to; a) perform service recovery soon after the patient's visit, b) build patient loyalty, and c) create a culture of service excellence, all of which results in positive impact to the patient experience.
Organizations that use M3-Patient Experience to supplement their CG CAHPS process have on-going intelligence to continuously improve throughout the year. As a result, when the annual CG CAHPS survey is conducted, organizations utilizing M3-Patient Experience increase the likelihood of achieving higher CG-CAHPS scores, higher than they would have scored otherwise, and thereby maximize their reimbursement.
Contact us
to learn more about CAHPS® surveys and meeting your healthcare organization's survey needs
HEDIS® is a registered trademark of the National Committee for Quality Assurance (NCQA)
CAHPS® is a registered trademark of the Agency for Healthcare Research and Quality