Revolutionary Advanced Technology

M3 Patient Experience - Align Patient Expectations
M3 Patient Experience continuously
monitors, measures, and assists front-line leadership
with maximizing patient retention and patient loyalty.
M3's service-recovery functionality equips front-line managers with timely, actionable patient feedback, allowing them to create and sustain a culture of service excellence .
Physicians, front-line support staff and other decision makers receive comprehensive reporting , on-line, identifying outstanding performance and service improvement opportunities .
Real-time notifications to leadership
On-demand reporting 24/7
"FLASH" Reports and Dashboards
Benchmarks to national comparative database
Actionable information to effect positive change





How it Works

| | | | |
| --- | --- | --- | --- |
| Patients take the practice's M3 survey from their computer or compatible mobile device. | M3 technology transforms the results, sends applicable alerts and provides real-time reporting. | Practice leadership receive email alerts and access M3 reporting 24/7. | Practice managers are delivered actionable information and execute an immediate positive change. |

Powerful and Proven

M3's real-time reporting improves or sustains the highest levels of customer service. Your practice manager will be able to:
Retain loyal patients
Reward outstanding performance
Recover potential service failures

Valid and Reliable


M3 questions Are Presented Separately, Maximizing Statistical Validity & Reliability.


Patient feedback is captured electronically, eliminating manual survey tabulation. Survey results are delivered real-time via GPSMapping®, MedicalGPS' Business Intelligence Solution.
Survey same day as patient visit
Surveys each segment of the patient's experience
Multi-lingual surveys
94.7% Completion Rate


We've got you covered, nationwide.
---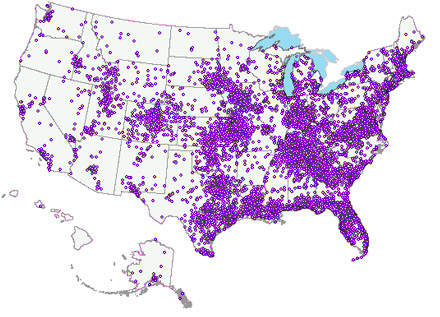 M3-Patient Experience Coverage
50 States and District of Columbia
Touching more than 1,500,000 patients annually
Serving over 7,000 physicians and other healthcare providers
Enabling 2,500+ practice managers to improve customer service and maximize patient loyalty

M3-Patient Feedback by Zip Code

Going Far Beyond Ordinary Patient Satisfaction Surveys
M3-Patient Experience is one of many products and services offered by MedicalGPS, delivering patient feedback since 1995. Founded by Marty Hudson and Jerry Stone, MedicalGPS, LLC Group Practice Solutions have been field tested in healthcare organizations nationwide and deliver measurable results.
MedicalGPS holds significant ownership in Core Business, LLC, our information technology company. Core Business has provided exclusive support and creative processes behind MedicalGPS technology since 2003.
Unique to MedicalGPS' service and product offerings is GPSMapping, MedicalGPS' proprietary business intelligence information system. Developed entirely by Core Business, GPSMapping harvests raw data from source systems and delivers actionable information to the fingertips of decision makers. GPSMapping is the business intelligence application supporting M3-Patient Experience capturing data and delivering secure, real-time results to practice leadership.
Contact MedicalGPS to schedule a live demonstration of M3-Patient Experience via email at info2@medicalgps.com or call 615.467.6338.

M3-Patient Experience - Going Far Beyond Ordinary Patient Satisfaction Programs!